At Sinclair Customer Metrics, we bring clarity and purpose to your organization's customer service, customer satisfaction, and employee satisfaction measurement. We design measurement programs to meet each client's specific research objectives using the latest technology, innovative methodologies, and knowledge gained from over two decades of experience.
We use advanced technologies and automated internal processes that enable us to manage small, medium and large programs in stride, and deliver more data for less cost than measurement programs of years past. The results for our clients are clear and meaningful metrics delivered in the most cost-effective and actionable form possible.
Good Metrics Lead to Better Decisions
We pride ourselves in the quality of the data we provide and take every possible step to ensure the data that influences your decisions is as reliable as it can be. However, the best metrics we provide will not influence change if they are not used appropriately, and to this end we help organizations put their metrics to use through our new Advanced Analytics, NetReports®; e-Coach™ employee training modules, and Action Plan Tracking.
Every organization's measurement objectives are different; one type of measurement program does not fit every objective. Whether your measurement objectives call for customer satisfaction surveys, mystery shopping or employee satisfaction surveys, we can provide a program that addresses one or all three areas. How we do this is part science, part art form and hard work.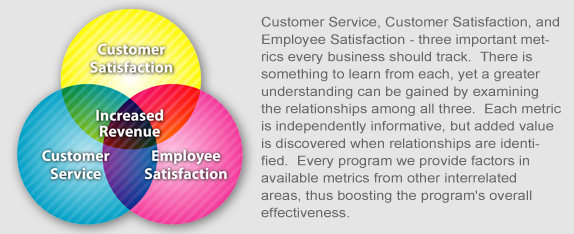 Sinclair can provide your business operators with the metrics, insightful analysis, and employee training needed to better manage your workforce and make significant improvements in your company's performance.
If you seek a sharper view of your service performance and a deeper understanding of what it takes to satisfy your customers, we invite you to take a close look at the services we provide. Call or e-mail us for more information or for an on-line demo.
If you'd like to hear more about the services we can provide your company, please call to speak with one of our Measurement Consultants: (800) 600-3871 or email us: info@emailsinclair.com