Webster's Dictionary defines Satisfaction as a fulfillment of a need or want and the quality or state of being satisfied. Loyalty is defined as a feeling of strong support for someone or something . It's easy to see the importance of businesses improving Satisfaction which has been proven to result in increased Loyalty of its customer base. The financial incentives for cultivating loyal customers has been well established and documented; however, measuring customer satisfaction is only the first step. Applying the metrics to bring about process improvement is where real change occurs, the kind of change customers ultimately notice.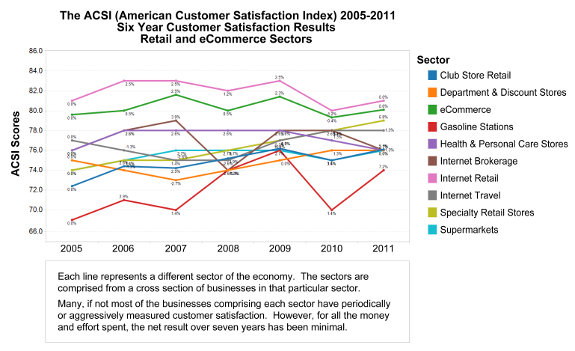 The Ross School of Business, at the University of Michigan, has been measuring customer satisfaction since 1995. Their annual study comprises numerous business sectors, including the biggest and most familiar names in each sector. Many, if not most, of the businesses rigorously measure and address customer satisfaction and loyalty, but as evident in the chart above, there has been little if no progress made, depending on business sector.
So, how is your plan going when it comes to cultivating loyal customers? Many businesses recognize the importance of measuring loyalty and customer satisfaction, but it is in translating those measures into loyal customers that most businesses have trouble with. Learn More >
Sinclair's Customer Satisfaction and Loyalty Programs Feature:
Targeted, adaptable surveys

enable you to pinpoint the exact areas you want to examine. Decision-tree processing gives you the most pertinent information from every survey.

Voice of the Customer

- The Data collected from Sinclair's IVR surveys can add significantly to your Voice of the Customer initiatives. Through our IVR surveys, you will gain detailed insight into your customers' reactions, needs, and desires. Your customers' IVR audio recordings literally provide you the "Voice of the Customer".

Measures Effectiveness of Service Initiatives

- When used in conjunction with mystery shopping, customer satisfaction surveys become a powerful window into the effectiveness of your service initiatives. Mystery shopping can tell you whether your employees are carrying out company service policies, and customer satisfaction surveys can tell you how effective those policies are.

Key Driver Analysis

- We can provide your organization with key driver analysis of what matters most to your customers, which can help shape a customer service action plan.
Web-Based Customer Satisfaction Surveys
Sinclair's web-based surveys enable your customers to complete a satisfaction survey through their computers at their convenience at any time. Survey responses are available through NetReports®; all reports are updated in real-time and available 24/7.
Telephone Customer Satisfaction Surveys - IVR
Sinclair's Interactive Voice Response (IVR) surveys enable your customers to complete a satisfaction survey by telephone at their convenience at any time. Learn More >
Sinclair's IVR surveys are designed so customers can use voice recognition to respond with simple narratives and / or a telephone key pad. Audio comments can be heard through NetReports® and all reports are updated in real-time and available 24/7.
Customer Feedback Telephone Interviews
Gain a better understanding of your customers, especially those who prefer to respond to a live person, with customer feedback telephone interviews. Learn More >
Sinclair's telephone interviews provide excellent completion rates, reliable responses, and the flexibility to choose between predetermined response options and custom designed open-ended questions that deliver more detailed responses. Sinclair call center specialists can contact your customers or any other target market and conduct a professional interview on their latest experience with your company or any other topic you request. Interviews are recorded and available for your review and analysis through NetReports®.
If you'd like to hear more about the services we can provide your company, please call to speak with one of our Measurement Consultants: (800) 600-3871 or email us: info@emailsinclair.com